Bad Actress is a show like no other. 
Since forming in 2018 Bad Actress have delighted crowds all over the UK on tours and
festivals that featured
the likes of Van Morrison, GUN, Passe
nger, The Fratellies, Dan Reed Network, The Dead Daisies, Hardcore Superstar, Michael Munroe, Girlschool, Geordie, Grand Slam, Nile Rodgers & Chic, Emeli Sandé, Stiff Little Fingers, Ash, Sam Ryder, Tygers of Pan Tang and many more.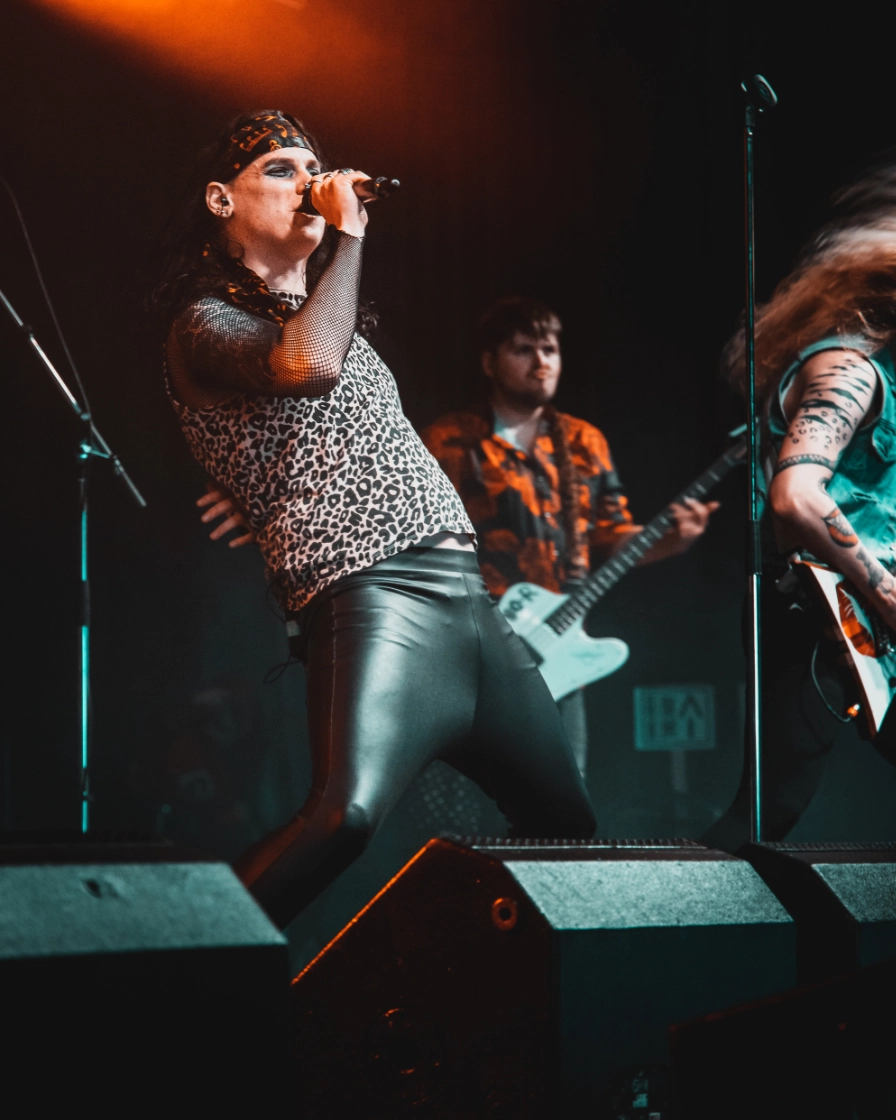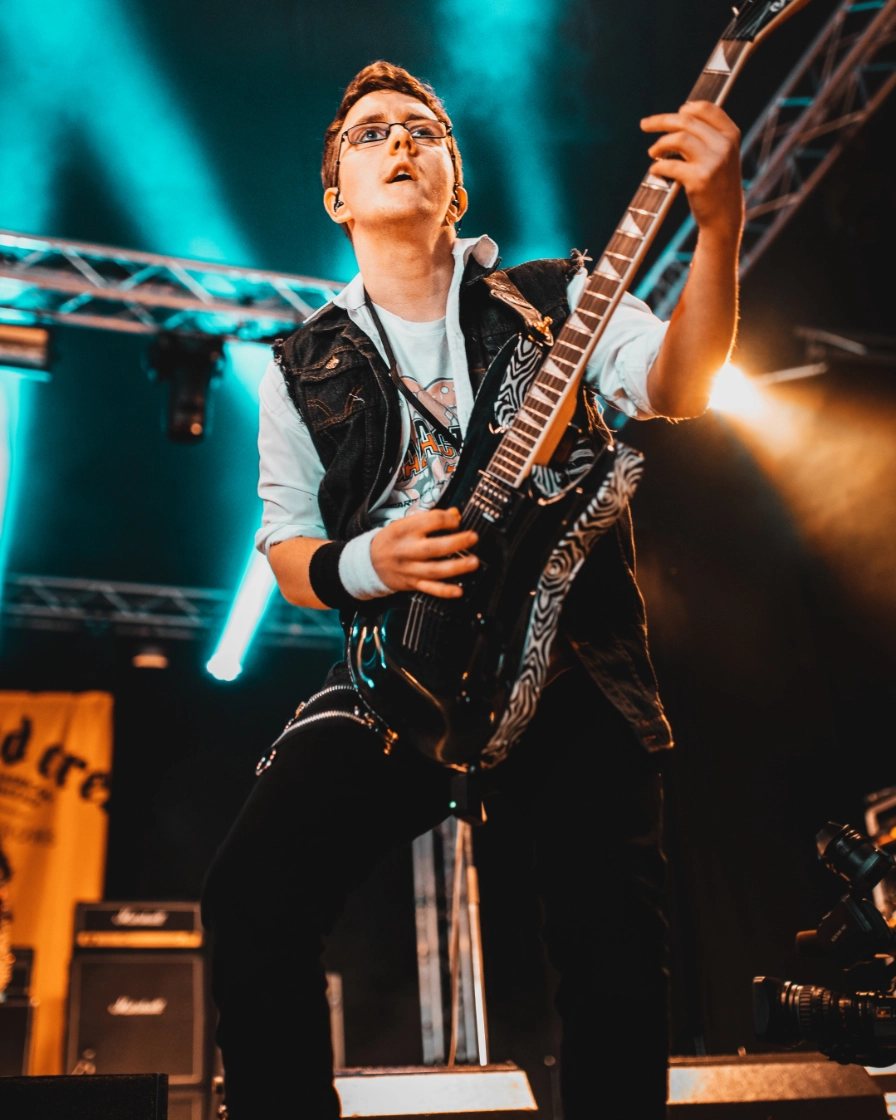 Heart, Soul & Rock 'n' Roll
Find out what Bad Actress is all about
Check out the 'Hot Stuff' video!
Hot Stuff is about going all in. Even if no one else belives, YOU have the power to believe in yourself.
It's having the passion to keep going and push life as far as YOU want.
YOU are made of 'Hot Stuff'
RAISING ROCKERS is a journal of observations by the father of the brothers as they first discovered and then pursued their passion to produce and perform rock music. It charts their story through childhood, winning a talent show and on to playing in various bands such as their own power trio, Civil Punk, and finally to making up three-fifths of BAD ACTRESS. There are encounters with numerous bands in the live music scene, including a few well-established musicians associated with some big names in the industry. Colour is added in the form of interviews with some of the many musicians, bookers, promoters and others who worked with, performed with or simply watched the band develop.
(LIVE)
RECORDED LIVE AT THE PATRIOT HOME OF ROCK IN NEWPORT, WALES
WHILST THE BAND WAS ON TOUR WITH MARCO MENDOZA IN APRIL 2022
Catch Bad Actress on STV News?
Watch it below!
"Full throttle rock n roll that leaves you wanting more. I was told I would love Bad Actress… I've fallen hook, line and sinker for them❤️" - Samantha Knight
"Loud, energetic & exciting. 5 young musicians who come together to secure the future of Next Generation Rock.?" - Tina Sherwood (Forge Ahead Initiative) 
"The guys that everyone's talking about... Bad Actress as a live entity are simply peerless. They bring a riot of musical intensity and showmanship that will not only ensure everyone present has the best possible time, but it will also push any other bands on the same bill as them to new heights of performance, for fear of being upstaged. You have been warned!" - John Craig (Forged In Fire Promotions)
"Rocking band. Totally freaking awesome." - Baz Knight
"Bad Actress attack every set with relentless energy and passion, and a clear inspiration from the golden age of 80's 'Hair Metal'. Belting out some of the finest toe tapping rock music that makes you nod your head and sing along... I honestly can't tell you how good they are live" - Mark Hilditch (Hilditch Handmade Guitars) 
"I can't think of anyone more deserving of the title "rock stars"... You leave me in awe every time" - London Holley (2 AM Patrol)
"Bad Actress... High voltage , foot tapping, head bobbing full on skeaze rock with a good chug of glam in the mix.... These young lads from the Highlands put on a show which will leave you wanting more.... True Superstars....." - Evelyn Barr (Emerging Rock Bands)
"Saw this band for the first time, wow Knocked my socks off.  Fab to watch and really Talented Musicians. If you see them advertised, Go and see for yourselves ." - Lisa Pacer
"Bad Actress have a presence and energy which matches that of the likes of AC/DC, Guns 'n' Roses and Aerosmith. All with the skill to match!" - Addy Small
"These guys are awesome! The first time I saw the band - opening a festival - I was taken straight back to the early days of the likes of Skid Row, Guns N' Roses, Motley Crue and the like! I am certain this band can go just as far. I absolutely love them. They've helped me recapture my youth too!" - Graham Thompson
"Bad Actress is my favourite newer band. Just pure Hard rock and Metal and such kind dudes" - Henry Stemme
"Absolutely recommend them to the hangover and back. Amazing band, beautiful boys xxxx" - Emma Zweig
"I think the attitude and the good time vibe is there..." - Ryan Roxie (Alice Cooper)
". . . the fun-loving live gig atmosphere of the 80s, taking it to the modern era and injecting some adrenaline fuelled stage antics while they do it." - Inverness Gigs
"Just been f****n blown away by Bad Actress, absolutely amazing, entertaining as f**k" - Nick Shane (Nick Shane TV)
". . . if you have not heard of these boys get them onto your playlist sharpish as they will be one to watch." - Darren McIntyre  (Jace Media)
"Bad Actress can fill any venue with a palpable thrill and energy. They float in the air like a glitter bomb, or a colour explosion, picture the Indian festival of Holi and you can transport yourself there right now." - Steve Hellygog (Weird Sisters Festival)
Slick, well rehearsed and engaging. There's posturing, posing, swagger and a lot of hair, all of which complements the catchy, riff driven songs brought straight from the Sunset Strip…Inverness. High energy and lots of fun. - Matt P (Emerging Rock Bands)
"Bad Actress Scotlands finest 5 piece sleaze Rock and Rollers dragging 80s LA strip Glam Rock back into 2021 with a bang ? They're Red Hot ?" - Kevin Simpson (Blitz)